Standing Dryer 3 Speed 18269
Salon Equipment have been inspected & cleared for good workmanship. Special care has been taken with construction of all Equipment.
All freight with Salon & Beauty Equipment Delivery Quoted separately.
Features and Functions:
Variable temperature
Reliable and durable
Equipped with stainless steel heating element
Hot perm, hair-drying, hair-treatment and spot-caring functions
Temperature can be adjusted from room temperature to 75 degrees Celsius
Warranty valid for 12 months from date of purchase.
DIAGRAM: KC Dryer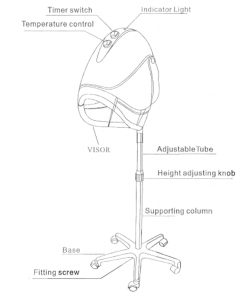 All freight with Salon & Beauty Equipment Delivery Quoted separately. as Prices May Change with Fluctuation of the Australian Dollar
$
260.00
$

250.00
(Incl. GST 10%)